In 2012 Kilgallen & Partners made the decision to explore the capabilities of Building Information Modeling (BIM). We started with smaller projects and progressed to use BIM on more complex, medium sized projects. During 2014 we made considerable investment in additional software and staff training and are now in a position to implement BIM on projects of any scale.
Kilgallen & Partners recognise the importance of BIM, in achieving high quality & cost effective design as part of a collaborative process. Whilst it is not yet a requirement in Ireland, it is our aim to achieve the ability to deliver projects using Level 2 BIM in line with the UK Government's deadline of 2016. We are currently involved in a number of projects which involve Level 2 compliant collaboration with other disciplines and we are actively working towards achieving BIM Level 2 accreditation.
Some examples of the projects which we have completed to date using BIM software (Autodesk Revit) are illustrated below: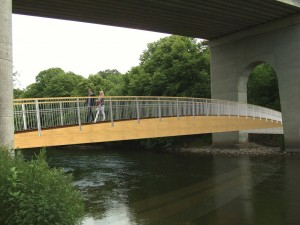 Ossory Pedestrian Bridge
Client: Kilkenny County Council
Value: €400,000
Description: The Ossory Pedestrian Bridge links The Canal Walk to The Lacken Walk. Glue Laminated timber and stainless steel were choosen as the primary materials for the bridge. As part of the planning and public consultation process, highly accurate 3d imagery was vital to show that the bridge design was sympathetic to the rural environment in which it was to be installed. The accuracy of the 3d model can be seen by comparing the model views with photos of the finished bridge (see images below). The enabling works for the bridge commenced in August 2014, with the installation process of the bridge elements commencing in September. The works were completed in early October and the bridge was officially opened to the public on the 23rd of October 2015.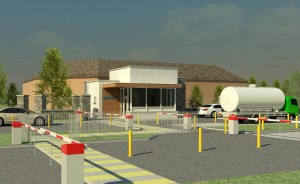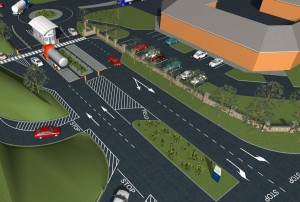 Site Access and Security Building for Glanbia PLC
Client: Glanbia Ingredients (Ireland) Ltd.
Value: €500,000
Description: Provision of improved site access arrangement to include new visitors entrance/exit, improved security and access control and a new security office. The security office was located and designed to facilitate control of all vehicles and personnel entering and exiting the site and also to house all access control equipment and a dedicated induction facility for all visitors to the site. Autodesk Revit was used to model the revised road layout, landscape and new boundary treatment as well as the security building. Planning permission has been obtained for the proposed works, tenders documents have been issued and works are due to commence on site during 2015.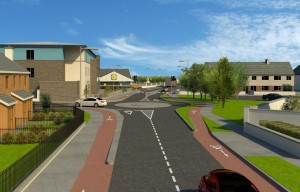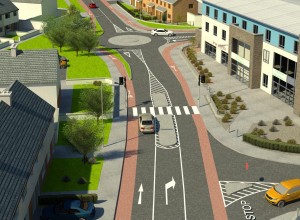 Urban Road & Street Improvement Works, Kilkenny
Client: Kilkenny County Council
Value: €150,000
Description: Improvement works to junctions on Bothernatounish Road, Kilkenny for Kilkenny Council. The works were designed in accordance with the Design Manual for Urban Roads and Streets. A BIM model was used to produce rendered 3d views for use in the Part 8 and public consultation process.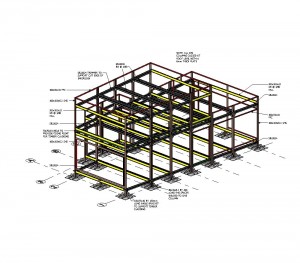 Marketing suite, Bicester, London for Octink/A2D
Client: Octink/A2D
Value: €300,000
Description: A modular steel frame building for use as the Marketing Suite of a large residential development in Bicester. As the Marketing Suite is a temporary structure which will be removed from the site after a number years, ease of assembly and dis assembly were a very important part of the design. The building was designed to be constructed off site in 10 individual pods which will be connected on site. Part of the brief stated that concrete foundations should not be used, therefore the foundations were designed as large, stiffened steel plates.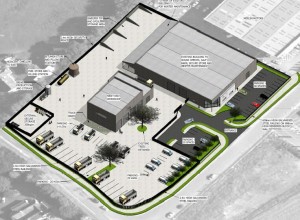 Feasability Study for new Local authority Highway Maintenace Depot
Client: Local Authority
Value: €1.5 million
Description: Kilgallen & Partners were appointed to examine 5 different sites to assess their suitability for use as a Highway Maintenance Depot. Facilities required on the site were to include 4-bay workshop, internal & external storage, winter maintenance area, sweeper tip and spoil storage, fuel & bitumen storage, truck wash and offices & ancillary accommodation for 20 staff.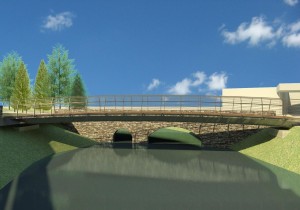 N21, Newcastle West Pedestrian Bridge
Client: Limerick County Council
Value: €300,000
Description: A Pedestrian Bridge was commissioned as part of a larger scheme involving pavement improvements and provision of pedestrian facilities in Newcastle West, Co Limerick. The bridge is located in a prominent location immediately adjacent the N21. Therefore the aesthetics of the bridge were of paramount importance and the use of 3d modelling software ensured all concerned parties were satisfied with the proposed design. A full set of tender/construction drawings were then produced using the revit model. The construction of the bridge was completed in February 2015.