Kilgallen and Partners provides a complete Geotechnical Engineering Consultation and Design Service. We recognise the importance of early geotechnical appraisal and investigative work and coordinate these elements at the outset of a project.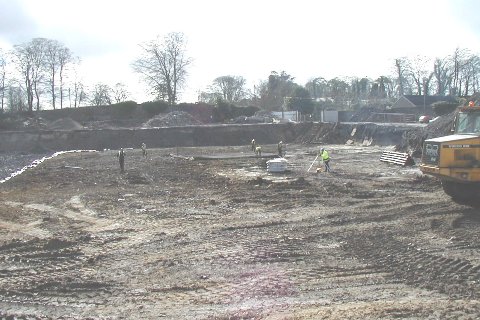 By establishing the ground conditions at an early stage we can advise our clients on the most appropriate and economical solution while also reducing risks in terms of safety, financial loss and damage to existing properties.
Our extensive experience of numerous site investigation techniques arms us with the capability to successfully assess all site conditions. Some of these techniques include;
Cable percussion boring
Rotary core drilling
Dynamic probing
Window sampling
Trial pitting
Slit trenching
Groundwater monitoring wells
Pump testing
Soakaway testing
Inclinometer installation for assessment of ground movement
Geophysical Surveys
Some of the projects where we have provided geotechnical consultation and design services include;
Alcrete Manufacturing Facility, Kill, Co. Kildare (€25million)
Client: Menolly Homes
Groundworks Contractor: Roadbridge Ltd.
Soil Stabilisation Contractor: Con-Form
Ground Investigation: IGSL Ltd.
Soil/Cement Stabilisation: The proposed site for the new 12,500 sq.m factory was a brownfield site measuring over 9 acres in area. This site presented a very challenging geotechnical situation, as up to 9 metres of very soft silt and clay was present as a large mound in excess of 300,000 cubic metres. The desk study and ground investigation works revealed that the very soft fine sandy silt and clay represented washings from the adjoining sand and gravel pit at Arthurstown. With formation level for the precast building approximately 2 metres above the interface of the silt and underlying indigenous soils, the possibility of stabilising the silt / clay was explored. This offered a significant cost saving when compared to importing granular fill and off-site disposal of the remaining silt / clay. Upon completion of the stabilization process the treated soil was tested and found to have compressive strengths in excess of 1,000 kN/m2 which in everyday terms was of similar strength to a weak rock.
Stradbrook Development, Portlaoise  (€23 million)
Client: G & L Properties
Main Contractor: Portlaoise Construction Ltd.
Piling Contractor: Murphy International
Ground Investigation: IGSL Ltd.
The Stradbrook Development in Portlaoise comprised of the conversion of the former County Hospital Building and Laois County Council Machinery Yard into a 5 Storey development with 130 apartments, offices, a medical centre and a creche over basement parking for 210 cars.
The ground conditions varied dramatically across the site from dense gravels on the western perimeter to soft clays and silts measuring up to 18 metres in depth on the eastern perimeter. The foundation solution consisted of precast driven piles through the soft ground and ground bearing r.c. pads and strips where gravels were found. The Ground Investigation was set out and scoped in great detail to establish the interface between the soft silts and dense gravels as this determined the transition line between piled foundations and conventional pads and strips. Full construction joints were detailed in the building along these lines to facilitate differential movement in the structure.