World War 1 Memorial Works Underway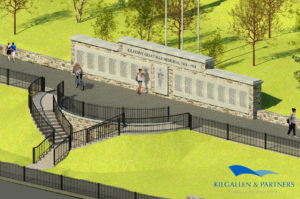 Work on the new World War 1 memorial for Kilkenny City is now under way and expected to be completed in June 2018.
The memorial will recognise some 825 Kilkenny men and women who lost their lives in the Great War and acknowledge more than 3,000 men and women from Kilkenny who served in the War.
The monument is being developed at the River Nore Linear Park adjacent to Michael Street. Kilgallen & Partners provided detail design services for the project. All plaques, statues, nameplates and capping stones are being cut from Kilkenny Limestone. The works are being completed by John Somers Ltd under contract with Kilkenny County Council.